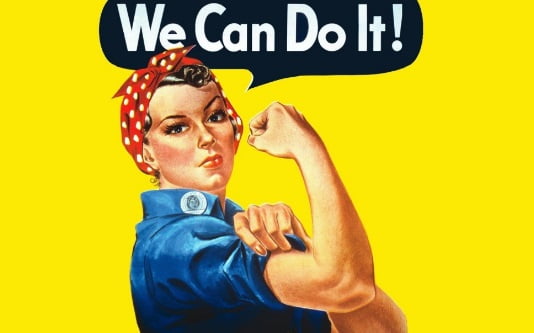 International Women's Day falls on 8th March every year and coincides with Women's History Month. This special day is a global celebration of the social, economic, cultural and political achievements of women. International Women's Day also highlights areas where action is still needed to achieve gender parity around the world. An International Women's Day EFL lesson can engage with these issues in a highly relevant way. The concept of access to education as a basic human right is reflected in language learning, as a great way to empower people through knowledge. Read on to get inspired!
Join us for as inspirational International Women's Day EFL lesson as we discuss influential women through history, female inventors and modern day innovators. We are also exploring useful vocabulary for human rights discussions and interesting EFL conversation lesson ideas.
History of International Women's Day 
An International Women's Day EFL lesson can begin with a brief look at the history of this special day. The first observance of a 'Women's Day' was held in 1909 in New York and in 1910, the International Woman's Conference suggested 8th March for an 'International Woman's Day'.
The first official International Women's Day was celebrated in 1911. This started as a strategy by which to promote equal rights, including suffrage for women.
Since then, International Woman's Day has become an important celebration worldwide and is an official holiday in many countries, including: Russia, Afghanistan, Georgia, Laos, Uganda, Vietnam, Cambodia and Cuba.
We hope that IWD will become an official public holiday in more countries around the world in the near future – including the UK and the USA!
In 2011, President Barack Obama declared March to be 'Women's History Month'. He called on the country to mark International Women's Day by reflecting on "the extraordinary accomplishments of women" in shaping America's history.
This special day belongs to all communities everywhere. The important and enduring message of International Women's Day is that everyone can play a part in pressing for gender equality.
Girls' Education Around the World
Teachers, this is where we come in as educators in the EFL classroom.
Education gives freedom and empowerment through knowledge. This is an especially important fact to recognise on International Women's Day, when many girls are denied equal access to education in the developing world.
An International Women's Day EFL lesson can use this issue to engage students in the classroom in important discussion about education around the world.
Some global education statistics
In 2011, only 60% of countries had achieved gender parity in primary education and 38% in secondary education. Girls' education not only improves their own prospects in life, it also affects those of their children. Studies show that a child born to a mother who can read is 50% more likely to survive past age five.
There have been many advances in girls' education in recent years. However, there is still a huge gap in gender equality in education with women accounting for around two-thirds of the world's 774 million illiterate adults.
Barriers to girls going to school include: poverty; institutional and cultural barriers; pressure for early marriage; lack of safety in travelling to school; lack of separate toilet facilities for boys and girls; sexual harassment and gender-based violence in schools; and time-consuming domestic work and household chores.
International Women's Day EFL Lesson Ideas
International Women's Day and Women's History Month are great opportunities to consider girls' education around the world and the continued fight for gender equality. There is a lot of vocabulary related to this subject, which can be presented before moving into a conversation lesson.
Girls' Education in an International Women's Day EFL lesson 
An attempt to discuss this complex issue as a topic for an International Women's Day EFL lesson will also work in a task-based language learning lesson. The vocabulary and language areas needed for this discussion will be discovered naturally through the conversation task.
Many useful phrases and words can be found in the previous paragraph about girls' difficulty in accessing education. The linked articles also offer more vocabulary and useful areas for discussion. We discuss girls' education and human rights issues in more depth later in this article.
Influential Women in an International Women's Day EFL lesson 
International Women's Day and Women's History Month are excellent opportunities to bring women into the classroom as important and influential people to study.
An International Women's Day EFL lesson could discuss influential women through history, their achievements, the obstacles they faced, their importance today and their legacy for the future.
This is also an opportunity to use powerful, inspirational and innovative women as spring boards to talk about achievements, politics and human rights in general.
Students in the EFL classroom can engage with International Women's Day through a variety of lesson plans, suited to all different age groups and ability levels.
Influential women through history
Ideas for an International Women's Day EFL lesson and a celebrating of Women's History Month include discovering the many achievements of women throughout history in all areas of life, from politics to drama, business to pop culture, literature to science. Some of these inspirational women could include:
Amelia Earhart (1897 – 1939) Aviator; first woman to fly a plane over the Atlantic ocean and the second person to do the trip solo
Boudicca (30AD – 61 AD) Warrior Queen, defeated the Romans multiple times
Joan of Arc (1412 – 1431) Military leader, martyr and heroine of France; led the French army to victory over the English at Orléans. Patron saint of France
Florence Nightingale (1820 – 1910) Statistician and nursing pioneer; creator of modern hygiene techniques and statistical methods, including the pie-chart
Ada Lovelace (1815 – 1852) Mathematician; inventor of computer programming
Marie Curie, Scientist (1867 – 1934) winner of the Nobel Prize in Chemistry, whose achievements include developing the theory of radioactivity and discovering the  chemical elements, polonium and radium
Elizabeth I (1533 – 1603) Queen of England during a time of great economic and political change, oversaw the defeat of the Spanish Armada and steered England to become a global superpower
Mary Wollstonecraft (1759–1797) writer, social theorist and equal rights pioneer, author of 'A Vindication of the Rights of Women', a hugely important feminist text
Charlotte Bronte (1816 – 1855) novelist; author of many important works, including 'Jane Eyre'; used the pseudonym Currer Bell
Margaret Thatcher (1925 – 2013) first British female Prime Minister
Emily Dickinson (1830–1886) American poet; known for her creative and unconventional approach to poetry, often dealing with themes of death and immortality
Millicent Fawcett (1846–1929) Suffragist and leader of Britain's biggest suffrage organisation, the non-violent NUWSS; co-founder of Newnham College, Cambridge
Emmeline Pankhurst (1858–1928) Suffragette and founder of the Women's Social and Political Union (WSPU), which explored all avenues of protest, including violence, public demonstrations and hunger strikes.
Eleanor Roosevelt (1884–1962) human rights campaigner, head of UN human rights commission
Coco Channel (1883–1971) the world's most innovative and revolutionary fashion designer
Jane Austen (1775 – 1817) novelist; author of many famous works including 'Pride and Prejudice'; Austen is an expert in irony, realism and social commentary
Katharine Hepburn (1907–2003) iconic film actress who lead an unconventional life, winner of four Oscars and 12 Oscar nominations
Simone de Beauvoir (1908–1986) philosopher and writer, whose revolutionary book 'The Second Sex' explored the traditions of sexism that dominated society and history.
Mother Teresa (1910–1997) nun, charity worker and Nobel Peace Prize winner.
Harriet Tubman (1822-1913) campaigner for the abolition of slavery
Dorothy Hodgkin (1910–1994) Chemist and winner of the Nobel Prize for Chemistry in recognition for her work on critical discoveries of the structure of penicillin and insulin.
Rosa Parks (1913–2005) American civil rights activist and campaigner, whose refusal to give up her seat on a bus led indirectly to dramatic social change
Anne Frank (1929–1945) Author of The Diary of Anne Frank, one of the most widely-read books in the world
George Eliot (1819 – 1880) Novelist, poet and journalist; one of the Victorian era's leading writers, whose famous works include 'Middlemarch'. Eliot's real name was Mary Ann Evans. Her writing is known for its realism and psychological insight.
Maya Angelou (1928–2014) American author, poet and civil rights activist. Best known for her seven autobiographies, including 'I Know Why the Caged Bird Sings'
Of course this is just a small snapshot of influential women and their achievements and there are many more hundreds of female names from history that could be used in an International Women's Day EFL lesson.
Other influential women to mark Women's History Month could range from prominent names in the film world, such as Marilyn Monroe, Katharine Hepburn, Audrey Hepburn and Bette Davis, to musical stars like Ella Fitzgerald, Aretha Franklin, Joni Mitchell and Janis Joplin.
A list of female literary greats could include include the writers Mary Shelley, Christina Rossetti, Emily Bronte, Kate Chopin, Elizabeth Gaskell, Stevie Smith, Jean Rhys, Sylvia Plath, Agatha Christie and Virginia Woolf.
Important female inventors for Women's History Month
There have been many important female inventors who were responsible for inventing machines and products that altered history. Their inventions saved lives, improved existing products, and made life more convenient, safer or more efficient.
It is a great opportunity to research some of these great inventors during Women's History Month. Some female inventors from history, which would be ideal to include in an International Women's Day EFL lesson, include:
Mary Anderson (1866 – 1953), inventor of the car windscreen wiper
Josephine Cochrane (1839 – 1913), inventor of the mechanical dishwasher
Jeanne Villepreux-Power (1794 – 1871), inventor of the aquarium
Melitta Bentz (1873 – 1950), inventor of the coffee filter
Grace Hopper (1906 – 1992), inventor of the first computer programming language that didn't use arithmetic, co-inventor of COBOL computer language, which was the first programming language used in business and government
Ruth Graves Wakefield (1903 – 1977), inventor of the chocolate chip cookie
Margaret E. Knight (1838 – 1914), inventor of the paper bag. Knight also invented a paper bag making machine, shoe-cutting machine, window frame with sash and a rotary engine
Maria Beasley (1847 – 1904), a serial entrepreneur whose inventions included an anti derailment device for trains and an improved life-raft: safety enhancements which saved millions of lives. However, it was her barrel-making machine that made her fortune with a regular $20,000 per year, which was a large sum in the late 19th century. Despite these incredible achievements and success, her job in the 1880 census was listed as 'unemployed housewife', such was her lack of recognition at the time.
Follow this link for more information on these inspirational female inventors and many more for a fun and topical EFL lesson.
Modern day inspiration for International Women's Day
In addition to looking into history for a lesson inspired by Women's History Month, we can also look to modern day female innovators and influencers.
An International Women's Day EFL lesson could include women from the current day who currently hold important or influential positions in the world.
There are so many possibilities across all areas of life. A list of modern day inspirational women from across culture, politics, science, sport, the arts, business and academia could include names such as:
Theresa May, British Prime Minister
Anna Wintour, Editor of American Vogue
Malala Yousafzai, Nobel Peace Prize winner and campaigner for girls' education
Zadie Smith, novelist, essayist and short story writer; an inspirational literary voice since her first best-selling novel, 'White Teeth'
Sandi Toksvig, comedian, writer, presenter and political activist, co-founder of the Women's Equality Party
Hillary Clinton, politician with 35 years' experience; the first woman to run for Presidential election in the USA for a major political party (Democrats)
J. K. Rowling, novelist, screenwriter and producer; best known for her Harry Potter series of books, selling over 400 million copies
Madonna, pop star and businesswoman – one of the most influential musical stars of the modern era and a cultural icon
Michelle Obama, lawyer and writer; as First Lady of the USA during Barack Obama's Presidency, Michelle became a role model for many women, raising awareness for poverty, education, human rights, nutrition and physical activity
Paula Radcliffe, long-distance runner, the fastest female marathon runner ever, setting the world record in the 2003 London Marathon with a time of 2.15.25
Emma Watson, actress and political activist. First found fame playing Hermione Granger in the Harry Potter films. United Nations Women Goodwill ambassador and co-founder of the #HeForShe campaign, encouraging men to stand up for gender equality
Margaret Atwood, novelist, poet and literary critic; best known for her dystopian novel 'The Handmaid's Tale', which explores themes of women in subjugation to misogyny in a patriarchal society
Carli Lloyd, USA women's footballer, FIFA Women's World Cup champion, 2015 FIFA Player of the Year and 2016 FIFA Player of the Year
Caroline Cridao Perez, journalist, women's rights campaigner and feminist activist; successfully campaigned for Jane Austen to feature on the UK's new £10 bank note
Baroness Susan Greenfield, scientist; Senior Research Fellow at Oxford University; member of the House of Lords; the first female director of the Royal Institution
Oprah Winfrey, television host, producer and philanthropist. Best known for her talk show 'The Oprah Winfrey Show', the highest-rated television program of its kind in history. Oprah is an inspiration and is often cited as the most influential woman in the world; born into poverty, she is a self-made billionaire.
Serena Williams, tennis player, holder of the most Grand Slam titles in singles, doubles, and mixed doubles combined
Professor Mary Beard, scholar and historian, Professor of Classics at Cambridge University and editor of The Times Literary Supplement
Sheryl Sandberg, technology executive, activist and author. Chief operating officer (COO) of Facebook and founder of Leanin.org (Lean In Foundation).
Angelina Jolie, actress and human rights campaigner; in 2012, was appointed Special Envoy to the United Nations High Commissioner for Refugees
Marie Kondo, organisating consultant and author; best known for her books on tidying, which have sold millions of copies
Steph Houghton, England women's football captain with over 80 international appearances
Angela Merkel, Chancellor of Germany since 2005, often cited as the world's most powerful woman and de facto leader of the European Union
Ellen DeGeneres, comedian, TV host, actress, writer, producer and LGBT activist
International Women's Day EFL Lesson Plan Ideas
An EFL lesson for International Women's Day and Women's History Month could ask students to discuss the achievements of one or more of these great women from history or the modern era.
Students could consider the invention or the achievements of these people, the obstacles they had to overcome to achieve them and why these people are inspirational for us today.
Students can write down the name of a female inventor or inspirational woman from history, her invention or contribution to history, why this was important and how this has inspired or helped people today – and how it will help people in the future. The ideas can then be presented by the students to instigate wider discussion.
An International Women's Day EFL lesson is also a great springboard to exploring how societal attitudes to women have changed over time.
Changing attitudes could be considered in terms of the way women are treated by institutions (such as the government), by society as a whole, by men as a societal group and by each other – women as a societal group.
For example, in the 1880 census, the inventor and entrepreneur Maria Beasley was listed simply as 'unemployed housewife' despite her many inventions, achievements and financial successes.
Students could consider why Maria Beasley's achievements went unrecorded and how she might be treated differently today?
Women's Rights are Human Rights EFL Discussion
Important aspects of women's rights that we are thinking about this month in an International Women's Day EFL lesson include equal access to education, work, and participation in society and politics.
The right to education is particularly pertinent in the EFL classroom, as it is directly related to our studies and teaching activities. Ironically, many girls across the world will not get the chance to study these issues relating to their own educational rights.
Some statistics that shed light on the importance of women's rights on International Women's Day include:
1 in 3 girls in developing countries is married before the age of 18
Women only fill 20% of parliament seats globally
40% of people globally think that men have more rights to a job than women
Humans Rights and International Women's Day
Other basic human rights can also be explored in an International Women's Day EFL lesson.
For example, basic human rights include the right: to have bodily and reproductive integrity and autonomy, to be free from sexual violence; to vote and hold public office; to enter into legal contracts; to have equal rights in family law; to have fair and equal pay; and to own property.
These are all crucial human rights and the necessity of these being respected for every human being makes an ideal starting point for a discussion of equality in an International Women's Day EFL lesson.
It is interesting for students to consider any opposing views. They could discuss potential arguments from those who might try to deny human rights to women – or to any section of society.
This ties in well with the recent #MeToo and #TimesUp campaigns, pressing for the end to sexual harassment and abuses of power. The campaigns were initially a response to the exposé of Harvey Weinstein and sexual assault in Hollywood and have since grown into a global movement. The campaigns have spread across the world as women speak out about their own experiences and demand an end to sexual harassment and power abuse in all walks of life.
Questions of Power, Ine
quality and Oppression
An EFL discussion could ask: why would anyone seek to deny someone else their rights? And how do they manage to do this?
Some considerations:
Is the oppressor trying to stop other people's rights in order to protect their own privilege and self-interest – are they worried about losing their privilege? Do they not want to share power, or do they have a genuine belief in the inferiority of other people? Perhaps they are acting from simple malice?
An EFL class dealing with social issues, human rights and injustice could begin by asking: why do some people have more power than others?
Ths question could trigger a powerful sociological debate in an advanced EFL class.
Words to discuss equality and human rights
Some words that are useful for this discussion of human rights and equality, which could be presented early in the lesson include:
Human rights, women's rights, dignity, respect, equality, parity, justice, fairness, fair treatment, equal opportunities, equal pay for equal work, gender equality, gender parity, to be free from oppression, to be treated equally/fairly
Law,  government, parliament, member of parliament, vote, election, representation, suffrage
Power, control, force, violence, oppression, repression, suppression, domination, coercion, abuse, violation, oppression of women, patriarchy, misogyny, misogynistic
Injustice, unfair, lack of fairness, lack of representation, against the law, unjust laws, to change the law
to demonstrate, to object, to fight, to march, to go on a march, to strike, to be arrested, to go on hunger strike, to be jailed, to be imprisoned, to be released
to violate someone's rights, to deny someone their rights, to wield power
superior, inferior, judgement, to make an error in judgement
Pride, jealousy, privilege, protection of privilege, self-interest, selfish, selfishness, self-esteem, ego, egotistical, vanity, conceited
Worry, concern, panic, anxiety, distress, desperation
Anger, hatred, malice, spite, hostility, bitterness
Need, desire, want, demand
Conversation lessons on equality for advanced EFL students
For advanced students, this conversation of the oppression of women as a section of society could lead on to a sensitive discussion of other human rights violations, now and through history. This includes any relevant vocabulary, phrases and expressions.
This idea might include a lesson with vocabulary related to the fight against slavery,  the Holocaust, the Witch Hunts of the early modern period and other violent or oppressive regimes and events.
Any discussion about such emotionally charged issues needs to be carefully handled. As such, teachers need to ensure the EFL lesson uses positive communication and approaches the subjects with sensitivity.
For a lighter and more personally relevant discussion, students could consider any situations where they feel they had received unfair treatment, how it made them feel and what they did to address the situation.
These topics often hold much new vocabulary and students will enjoy the chance to learn new words and phrases and discover how to use them appropriately within an EFL conversation lesson.
This is also a good chance to teach some conversation and debating skills with appropriate phrases for bringing up a subject, offering a new idea, disagreeing, agreeing and interrupting – all of which are useful in the context of meetings.
How to get involved with International Women's Day?
International Women's Day is a truly inclusive day for everyone to engage with equality –  women, men and children across all cultures and communities – whether in large formal gatherings or small family groups. This day is about the press for gender parity everywhere.
To get involved with International Women's Day, follow the hashtag #PressforProgress on social media. This is a call to motivate and unite friends, colleagues and whole communities to think, act and be gender inclusive.
With global activism for women's equality fuelled by movements like #MeToo and #TimesUp, there is a strong global momentum striving for gender equality.
It feels exciting and highly relevant to show support for this compassionate movement through TEFL – after all, education is all about empowering people through knowledge.
Planning an International Women's Day EFL lesson is a great way to engage with the theme, learn about history, introduce new vocabulary and have important conversations about pressing social and political issues.
Empowerment through language learning and TEFL
EFL teachers can actively help empower their students. Helping people around the world to improve their English language skills is a great way to help students improve their prospects in the international job market and open up potential new avenues for education and social engagement.
Having English language skills means students can travel abroad more easily, access more learning materials, watch films and TV shows, read online newspapers and listen to English radio, such as the BBC World Service.
English is the most commonly spoken international language, so when a student improves their English language skills, they open up new opportunities in life. For many women and girls in particular, this can be an invaluable skill.
Share your thoughts on International Women's Day and Women's History Month
Will you be preparing an International Women's Day EFL lesson?
Which other important women from history should be included in our list of influencers?
Are you celebrating Women's History Month?
Do you have any tips for exploring sensitive subjects in the EFL classroom?
Is equality and human rights too delicate a subject for an EFL class? Or is it good to use these topics to engage debate for advanced students?
How would you simplify the EFL class for beginners?
Let us know your thoughts in the comments!