Using English for Travel
There are many useful words and phrases we use when travelling and dealing with transport. For non-native speakers this is an topic of study so that you can enjoy organising your travels without worrying about language.
Explore vocabulary related to travel and transport here and learn useful travel vocabulary for trains, buses, cars, taxis, planes and boats.  
General English Travel and Transport Vocabulary:
to arrive, to depart, to leave, to stay,
to cancel, cancellation, cancelled, delay, delayed
to book, to reserve, reservation, to cancel a reservation
holiday, business trip,
trip, journey, to travel, map
travel agent, brochure
ticket office, fare, price, single/return ticket
by foot, on foot
by plane, by train, by taxi, by car
roundabout, road, traffic lights, speed limit, junction, cross roads, road signs
Vocabulary and phrases for different modes of transport:
Car
Wheels, steering wheel, dash board, indicators, headlights, roof, bonnet, boot, engine, battery, windscreen wipers, garage, car mechanic, petrol station, service (a 'check up' for a car)
Bus
Double decker, single decker, passengers, bus driver, bus stop, bus station, bus conductor, coach, luggage hold, bus lane
Bus travel phrases: the next stop, the last stop, to get on/off the bus
Train
Train station, platform, track, level crossing, locomotive, underground, cross-country, local, return, single, ticket, carriage, first/second class, train driver, ticket inspector, waiting room, seat, timetable, guard, season ticket, fare, travel card, buffet car
Train travel phrases: to catch a train, to check the timetable, on the platform, to travel cross-country, to get on/off the train
Taxi
Cab, black cab (official English taxi), fare, taxi rank, taxi driver, tip (noun and verb)
Taxi travel phrases: to hail a taxi, to pay the fare, to tip the driver (verb)
Plane
Aeroplane, airport, airline, wing, runway, pilot, gate, passport, excess baggage charge, cabin crew, flight attendant, air steward/stewardess, security, turbulence, seatbelt
take off, landing, hand luggage, hold luggage, over-head locker, boarding card, customs, departures, arrivals, lounge, aisle seat, window seat, check-in, in-flight entertainment
Plane travel phrases: to put luggage in the hold, taking off, to fasten your seatbelt, to experience some turbulence
Boat
Ferry, cruise ship, harbour, deck, port, sea, ocean, cabin, captain, sail, sea sickness, crossing, on board, life belt/jacket, foot passenger, buffet, port side, starboard
Boat travel phrases: to embark, to disembark, 'choppy' seas, to sail, to have a good crossing, to go out on deck, welcome aboard/on board, the captain's table
English at the Train Station
| | |
| --- | --- |
| Phrases you may want to say | |
| Please can I have two first class tickets to London | When does the train arrive in Birmingham? |
| Could I buy a return ticket to London, please | Do you know how long the journey should take? |
| Which platform does the train leave from? | Do I need to change trains? |
| | |
| Phrases you may hear | |
| How many people are travelling? | Do you want single or return tickets? |
| The train will be delayed | You will need to change at Oxford |
| Your train leaves from platform 3. | Tickets, please! |
| The next train will arrive at platform 5 | Mind the gap! (to remind travellers to be careful when stepping off the train) |
Train times on timetables are always given in the twenty-four hour clock format. So, 5.15 pm would be 17.15 and 9.05 am would be 09.05.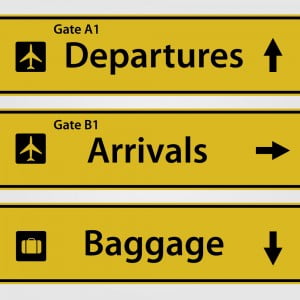 English at the Airport
| | | | | | |
| --- | --- | --- | --- | --- | --- |
| Phrases you may want to say | | | | | |
| I have a reservation. | I am travelling/flying to Paris | | | | |
| I booked my ticket online. | Can I take this on board as hand luggage? | | | | |
| I have my boarding pass here. | Could I check this into the hold please? | | | | |
| Here is my passport. | Where is the departure lounge? | | | | |
| Which departure gate does my flight leave from? | Can you tell me where 'arrivals' is? | | | | |
| | | | | | |
| Phrases you may hear | | | | | |
| Can I see your boarding card please? | There will be an excess baggage charge. | | | | |
| Do you have your booking reference? | Make your way to departure gate 12 | | | | |
| Are you carrying any liquids? | The flight has been delayed/cancelled. | | | | |
| Did you pack your bags yourself? | Last call for passenger Smith | | | | |
| You will need to check that into the hold | Please place your case on the scales | | | | |
Click here to explore more vocabulary and phrases for when you are out and about.
What do you find most difficult about using English when travelling?