Valentine's Day vocabulary will be making its way into EFL classrooms this month! Love is in the air as the 14th February quickly approaches. With so much vocabulary linked to this most romantic of days, this is the perfect time to introduce some new words and phrases to the class.
English vocabulary can be brought into an EFL Valentine's Day lesson plan in various ways, including listening to songs, reading poems or letters, talking about activities or writing love letters and greetings cards. There are lots of ways to celebrate Valentine's Day in the EFL classroom this week. So go ahead and light the pink candles – it's time to explore Valentine's Day vocabulary in a romantic EFL lesson!

Valentine's Day Vocabulary
There is a lot of English vocabulary related to Valentine's Day. Look at words and phrases in pop songs and on Valentine's cards for inspiration. Words related to romance and love that are ideal for introducing in an EFL class include:
Valentine, Saint, Heart, Cupid, Card, Arrow, Romance, Romantic, Date, Kiss
Sweetheart, Sweetie, Sweetie Pie, Darling, Baby, Babe, Lover, Crush, Soul mate, Loved One, One and Only, Bae ('bae' is a modern slang word) – all fun ways of describing your Valentine!
Love Birds, Lovers, Sweethearts, Couple, Love's Young Dream (to describe two people in love)
Boyfriend, Girlfriend, Partner, Wife, Husband, Other Half, Better Half, Significant Other
To cherish, to adore, to admire, to love, to care for, to be besotted with
Friendship, Relationship (the word 'partnership' is usually reserved for business partnerships)
Devoted, Beloved, Special, Perfect, Beautiful, Handsome, Gorgeous
Always, Forever
Marriage, Wedding, Engagement, Celebration
Roses, Flowers, Bouquet, Teddy Bear, Chocolates, Perfume, Jewellery, Ring, Poem (these are all traditional romantic gifts)
To marry, to get married to, to wed, to join together, to get engaged
To go out with, to fancy, to date, to go on a date, to be courting ('courting ' is an old-fashioned word for 'going out with' or 'dating')
To spend time with, to dream about, to dream of, to fall in love with, to be obsessed with, to idolise, to lust over, to fancy, to have a crush on, to go gaga over
To be heartbroken, to break your heart over, to shed tears over, to miss
Love is in the air – a common phrase to mean the atmosphere is romantic
Valentine's Day EFL Lesson using the PPP Method
Valentine's Day is the perfect opportunity to employ the PPP method of teaching. This is where you first present the information and new English vocabulary, then encourage the students to practise the new words before producing it in their own creative way.
EFL students can read a selection of Valentine's cards with their romantic poems written inside. After presenting the poems in the Valentine's cards, the students can then discuss the language and words used in groups.
Any new or difficult Valentine's Day vocabulary should be tackled by writing it up on the board. It is also a good idea to pass round cards already prepared with important words.

Presentation, Practice and Production for Valentine's Day EFL Class
The new Valentine's Day vocabulary can be used to practise sentences with romantic words out aloud. Make sure to also present some useful phrases and collocations such as 'to fall in love with', 'together forever', 'to fire an arrow at', 'to aim an arrow at', 'to go on a date with'.
Sometimes students will be unsure which preposition to use and it will not always be obvious. For example, in phrases such as 'to fall in love with', but not 'to marry with'.
So make sure to practise the relevant collocations in the practice section of the PPP lesson so the students are prepared for the production part.
For the production part of the PPP EFL class, students can create their own Valentine's messages to go inside their Valentine's card. The card they create will depend on the intended sender and the intended Valentine.
It is a good idea to ask students to create a few different messages using Valentine's Day vocabulary. They could create a card for an existing couple, one for a prospective girlfriend or boyfriend and another for a friendship.
Students could also write cards for celebrity couples or joke cards for unlikely couples.
Roses are Red, Violets are Blue
There is a lot of famous Valentine's Day vocabulary. One famous starting line for a Valentine's Day poem is 'Roses are Red, Violets are Blue'.
This poem normally has two more lines, ending with a word that rhymes with the word 'blue', which is usually 'you'.  For example: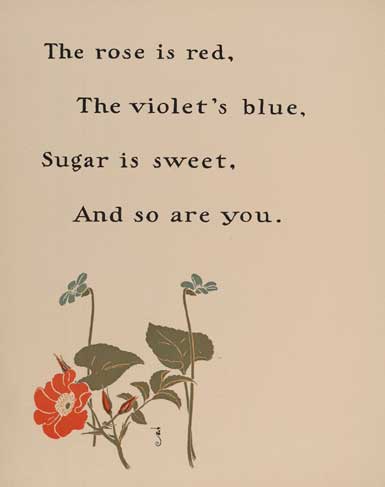 The card below has used the first part of the famous rhyme and turned it into a joke:
There are a couple of options for the origins of the 'roses are red' Valentine's Day rhyme. A poem in the 1784 collection of English nursery rhymes called Gammer Gurton's Garland includes this verse:
"The rose is red, the violet's blue,
The honey's sweet, and so are you.
Thou are my love and I am thine;
I drew thee to my Valentine:
The lot was cast and then I drew
And Fortune said it shou'd be you"
The Faerie Queen
Another possibility for the origins of the Roses are Red rhyme is the 1590 incomplete epic poem by Edmund Spencer, The Faerie Queene.
Written in Early Modern English, this is one of the longest poems ever written in the English language.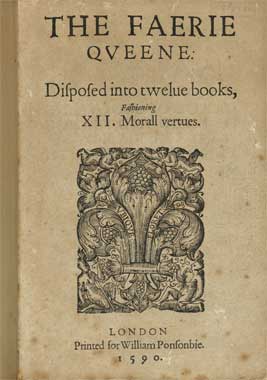 The work is dedicated to Queen Elizabeth I, who appears as Gloriana in the poem. Such was the Queen's appreciation for the allegorical epic, she gave Spencer a pension for life.
This Royal patronage also helped to boost the poem's popularity. Here is the verse containing a reference to 'roses red':
"It was upon a Sommers shynie day,
When Titan faire his beames did display,
In a fresh fountaine, farre from all mens vew,
She bath'd her brest, the boyling heat t'allay;
She bath'd with roses red, and violets blew,
And all the sweetest flowres, that in the forrest grew"
Songs for a Valentine's Day EFL Lesson
Another useful exercise in a Valentine's Day EFL lesson would be to listen to some romantic songs. This would give EFL students the chance to hear the words out loud not only see them written down in a card.
Students can make up their own poems or song lyrics, which could be romantic and serious or witty and humorous.

Using songs to teach EFL is a great way to present new words in a relevant way and make the learning more fun for the students, especially if they get to choose the song. The songs available would need to be appropriate for the English level of the class.
Possibilities for romantic songs to teach Valentine's Day vocabulary include It Must be Love by Madness, Love is All Around by Wet Wet Wet and All I Want is You by U2.
Or perhaps you'd prefer to teach EFL using Jazz music? Think about Norah Jones, Michael Buble, Frank Sinatra. The possibilities are endless!
Can you think of some other great love-themed songs for learning English?
What other suitable Valentine's Day vocabulary can you think of?
How will you incorporate Valentine's Day into the EFL class?
Do you have more ideas for creating a Valentine's Day EFL lesson plan?